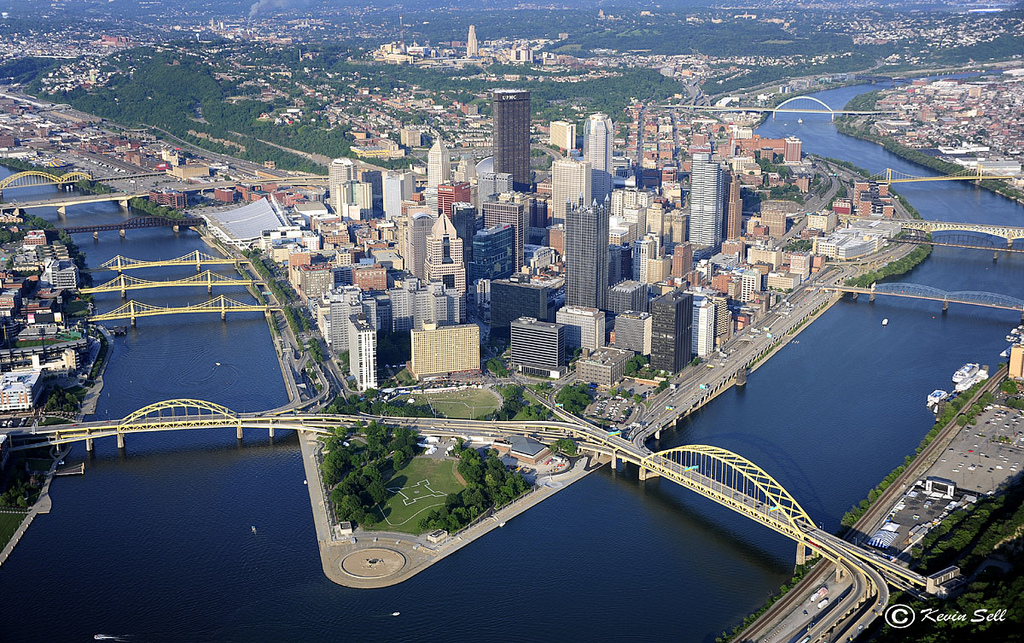 2017 Pittsburgh Reunion Itinerary
October 11th to the 15th, 2017
Make your plans to join us for the 2017 reunion in the Iron City, Pittsburgh Pennsylvania. We will be staying at the Pittsburgh Sheraton Station Square which can actually be seen in the photo above (Tan building far right).
Wednesday, October 11th - Registration will be throughout the day at a location in the hotel to be determined. At 5:00 PM, our hospitality room will be open for drinks and conversation. Also, Joel Swindlehurst will present the latest version of his slide show.
Thursday, October 12th - We will board buses at 9:15 AM and head for the Heinz History Center, an affiliate of the Smithsonian Institution, and the largest history museum in Pennsylvania. We will have lunch at the famous Church Brew Works, housed in the former St. John the Baptist Church (deconsecrated) and then take a bus tour of Pittsburgh with some stops along the way. We will return to the hotel at 3:30 PM. The hospitality room will open at 5:00 PM, and will feature Joel's slide show.
Friday, October 13th - At 9:00 AM the Board of Directors will meet and at 10:30 AM the general meeting will follow (locations to be determined). At 11:30 AM we will walk out of the door of the hotel to the dock on the river and board the Gateway Clipper Cruise ship that will take us on a two hour tour of Pittsburgh and the vicinity with lunch included. We will return to the hotel a 2:00 PM. At 5:00 PM, the hospitality room will be open, featuring Joel's slide show.
Saturday, October 14th - Saturday will be a free day for everyone. There are many things to do in the immediate Station Square area where the hotel is located plus other attractions that are a short distance away. The hotel has a free shuttle to anywhere within three miles of the hotel. Optional tours are being planned. Our banquet will begin with a cocktail hour at 5:30 PM, with dinner beginning at 6:30 PM.
Space is limited for each Day Tour so register early! If you have any questions or concerns about the tours or the reunion in general, please contact Suzanne Arnett at 818-400-3130 (Pacific Coast Time).
Please note: There will be a change this year. The Board of Directors Meeting, the General Group Meeting and the Kids Group Meeting will be held on Friday Morning instead of the usual Saturday Morning.
Please note: We were unable to secure buses with wheelchair access for the day tours. There will be people on hand to lend assistance with loading and unloading, but all tour members will be required to get on and off the bus under their own power. We're sorry if this causes any inconveniences.
Click on Links below to access additional Omaha Reunion information
Hotel Information Pittsburgh Transportation Pittsburgh Reunion Order Form
Return to the Pittsburgh Reunion Main Page