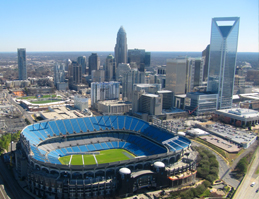 2018 Charlotte Reunion
September 26th to the 30th, 2018
Be sure to join us for the 2018 Group Reunion in Charlotte, North Carolina. Charlotte, known as the "Queen City" of the south, is the home of NASCAR, The NFL's Carolina Panthers, the NBA's Charlotte Hornets, the Billy Graham Library (and the birthplace of Billy Graham), and the Carolinas Aviation Museum. The city of Charlotte was developed prior to the Revolutionary War by a wave of migration of Scots-Irish Presbyterians, or Ulster-Scot settlers from Northern Ireland, who dominated the culture of the Southern Piedmont Region. Charlotte is traditionally considered the home of Southern Presbyterianism. Charlotte is also one of the largest banking centers in the United States and is the home of Bank of America and the east coast operations of Wells Fargo Bank. The city is home to many diverse museums including the Levine Museum of the New South, which features exhibits that follow Charlotte's growth post-civil war to the present. Charlotte is one of the fastest growing cities in the US. Be sure to be with us for another gathering in the fall!
Charlotte Hotel Information
Our hotel will be the Charlotte Doubletree Suites by Hilton Hotels—Southpark
6300 Morrison Blvd., Charlotte, North Carolina 28211
Our Special rate is $129.00 per night (plus tax—single or double)
For reservations, please call: 1-800-HILTONS (445-8667) or 1-704-364-2400 (local) and tell them you're with the 463rd Bomb Group (Group Code: BGR) to get the special rate.
Cutoff date for room reservations is September 5, 2018
Please note: Due to conference activity at the hotel early in the week, we were unable to secure the group rate for early arrival Monday, September 24th and Tuesday, September 25th. The rates for those nights will be $159.00
Reserve your room the easy way - book online! Click on the link below and book your room at the Doubletree\Hilton Reservation page custom made for our group:
Doubletree Reservation Page (click this link)
Information regarding tours, meetings, and banquet orders will be included on this web site with the release of the July Newsletter